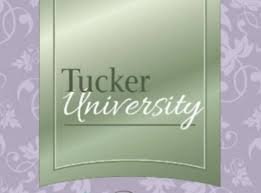 You must wear your mask while in the Sewing Studio building except when you are drinking and eating. No exceptions will be granted

Tucker University Series

There is a monthly fee for these classes as this is the Tucker Monthly Club. Each month you will get the ruler, the Technique Sheet, and Design Sheet included in the fee. As needed we will try and provide a make-up time if you are unable to attend a session.
You will also have the opportunity to purchase a sterling silver charm of the block you have learned each month.


2nd Class – V Block & Sidekick & High/Low - Class 2 V Block Fabric and Class Requirements
3rd Class – Wing Clipper & Pickets & Quickets - Wing Clipper and Pickets and Quickets Supply List
4th Class – Square-Squared & Little Houses - Square-squared and Little Houses Supply List
5th Class – Corner Beam & Sliver - Corner Beam Supply List
6th Class – Rapid Fire Lemoyne Star - Rapid Fire Lemoyne Star Cutting Instructions
7th Class – Corner Pop - Corner Pop Supply List
8th Class – Split Rects - Split Rects Supply List
9th Class – Diamond Rects - Diamond Rects Supply List
10th Class – Large Square Squared - Large Squared Square Description and Requirements
11th Class – Rapid Fire Lemoyne Star – Advanced I: Strip pieced, Liberty & Banded Lemoyne Star -
12th Class – Rapid Fire Lemoyne Star – Advanced II: Fussy Cut, Leymone as Triangles & Blazing Leymone Star -
Fabric Requirements: The fabric yardage will be provided each month.
Please bring your own machine in good working condition. Bring your rotary cutter, a 6x12 ruler, small cutting mat, marking pen, pins, proper foot for your machine and thread.
| | |
| --- | --- |
| Skill Level: | Beginner |
| Skill Details: | This is a great place to start your quilting adventure |
| Materials Included: | Each month, you will get the featured ruler, technique sheet, and design sheet. You furnish the fabric. A new fabric sheet will be provided each month. |
| Requirements: | Bring your machine in good working order, sharp needle, scissors, small cutting mat, rotary cutter, thread, and note paper to each session |
| Instructor: | Teresa Arendell |